! DOCTYPE>
Duplication; Disclaimer | Looney root page | Practitioner class page was sited at http://lee.boston.k12.ma.us/d4/d4.html | "The Looneys Love Regional Literature" | Joseph Lee School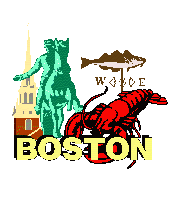 The Online Journal
of
Looney Larry and Looney Lester Lobsters
residing at the Joseph Lee Elementary School in Boston, Massachusetts

February 24 - 28, 1997 - - Stone Mountain, Georgia
Hambrick and Snapfinger Elementary - Mrs. Brohammer's classes
[Looney Lester 04 - 1,325 miles traveled]


Monday, 03 March 1997 10:58:41 -0500

The trip: On Thursday morning at 6:30 A.M. we left Hambrick School on our overnight trip. We had a good trip to Callaway Gardens and the Butterfly House. Many butterflies were flying around and also landing on us! Looney was able to meet one face to face! We hope the picture comes out! We also took a picture of our group with the bus and the bus driver while we were at Callaway Gardens.

We toured the Sibley Horticulture Center where we saw a lot of plants and a waterfall. We also saw some swings, different insects, and there was construction where they were still building. Then we went for our picnic at Meadowlark Park. We were able to visit a pioneer log cabin that is on display there. We went on a walk. Then we loaded the bus and left for Warm Springs.

At Warm Springs we walked to the museum along the path of state flags and state rocks. We saw the movie about Franklin Roosevelt and how he exercised at Warm Springs Rehabilitation Center to try to make his legs stronger after he had polio. It showed how he celebrated Thanksgiving dinner with the children at the rehabilitation center. Then we ran through the rain to get to the Little White House. There we saw their bedrooms and an unfinished picture of Franklin Roosevelt that was being painted the day he died. We saw his secretary's wheelchair. They both wore leg braces to help them walk better. He married his 5th cousin once removed, Eleanor.

Then we left for Perry, GA, to spend the night at the Hampton Inn. We all had supper at Cracker Barrel.

The next morning, we left for Andersonville. We watched a video on the bus about the prison camp at Andersonville and wrote about it in our journal. Andersonville is a Civil War village. A man dressed as a soldier from 1864 talked to us about his so-called life in the prison camp. He wore a ball and chain on his leg. He showed us the stocks where people were punished for trying to escape. He talked about the horrible conditions in the camp and about some games they had. He had playing cards.

Then we all ate lunch at McDonald's in Americus, GA. Then we had some extra time for driving through Plains, GA, the home of President Jimmy Carter. We drove along the main street, saw his home, and saw his church.

Our next stop was the DeSoto Confectionery where we saw butter crickle being made. They were packaging it for Cracker Barrel. They sell about $750,000 worth of it each year. We were served some of all the kinds of candy they make and shopped in their gift shop.

We saw many kinds of telephones at the Telephone Museum in Leslie, GA. The first telephone was made in 1875 by Alexander Graham Bell. We saw telephones from the beginning of the invention of them. We saw a Telstar satellite and we were able to speak to Bubba the Bear who thanked us for coming. They showed us solar energy for powering telephones. It was a fun place.

After that we were on our long journey home to Stone Mountain. It was really fun and Looney enjoyed his bus ride with a special seat in the front. He is getting ready today for his trip to South Carolina. We are going to miss Looney. It was fun having him as a member of our class and as a participant in our special trip. We hope he can visit again sometime. He is always the center of attention!

Your friends in Stone Mountain,

Ledisi, Andrew, Kaylia, Chris, Ashley, Warren, and Mrs. B.



March 10 - 14, 1997 - Columbia, SC
Nelson Elementary School - Columbia, SC -
Linda Miller's 4th graders and
Susan Landrum McCarthy, Technology Specialist
[Looney Lester 05 - 1,504 miles traveled]


Saturday, 15 March 1997 14:03:35 -0500

Dear Fourth Graders,

Looney arrived at Nelson last week, but we didn't get him until late on Tuesday. Somebody forgot to deliver our mail to us!

We were afraid that Looney might be sick. We didn't know if lobsters suffered from allergies. So far, so good though! Everything is in bloom here and it is very pretty. Unfortunately, with all of the beautiful azaleas, daffodils, tulips, wisteria, dogwoods, etc... comes lots and lots of pollen. There are many people in our school sneezing and coughing right now because of all the pollen. Looney is glad to see the signs of spring and even more glad that he isn't being bothered by the pollen. Mrs. McCarthy is going to take some pictures at home with our digital camera so that you can see what it looks like here. We will send them next week attached to an e-mail message.

It's been a very busy week for us. We will have visitors from Washington next week. We are cleaning up and getting everything ready for our blue ribbon site visit. Looney has been very patient with us, sometimes we have gotten so involved with finishing up our projects that we haven't spent as much time with him as we should have.

This afternoon Looney is going to watch our Gamecocks play in the NCAA tournament. We won our first SEC championship last week. GO 'COCKS! South Carolina has four teams playing in the tournament this year. Can you name them? If we win, Looney will get to go out for a special celebration meal. (We promise not to take him out for seafood). If we lose, Looney will get to eat at home with the McCarthys. Maybe they'll send out for pizza!

Looney is going to the zoo on Saturday morning with Mrs. Miller and her grandchildren. Our zoo, Riverbanks Zoo, has its own web site. You can visit them online at: http://www.riverbanks.org/

Our state house is being renovated so we couldn't take Looney down there for a visit. But, if you'd like to learn more about South Carolina or Columbia then you can visit these pages:

South Carolina

South Carolina

Columbia tourism

Sunday, Looney is going to go to work at WCOS with Mr. McCarthy. WCOS is our local country music station. Looney will get a chance to play some special requests during the all request show. We'll be sure to get some pictures!

Since we lost some of our time with Looney, we've decided to wait until Tuesday afternoon to mail him to Kentucky. Mrs. McCarthy and Mrs. Miller will take him to the post office on Tuesday afternoon and send him by express mail to his next group. We received the replacement single-use camera this afternoon and we will send the original one to you on Monday or Tuesday so you can develop the film of Looney's trip.

We're enjoying our time with Looney and hope to use this experience to plan for our own traveling buddy adventure next year!

Mrs. Miller's Fourth Grade Classes
Susan Landrum McCarthy (slandrum@scsn.net)
Technology Specialist
Nelson Elementary School (URL: http://www.scsn.net/users/rich2/elem/nelson)



March 17 - 21, 1997 - - Las Vegas, Nevada
Sunrise Acres Elementary School - Las Vegas, NV
Susan Kinsler's class
[Looney Larry 06 - 4,692 miles traveled]



Saturday, 15 March 1997 07:10:13 -0800

Looney arrived safely Friday, March 14th, while I was at a computer training session. The kids have not seen him yet, but are anxiously awaiting his Monday arrival. We had almost finished an ocean bulletin board, complete with ocean sounds, to make him feel more at home. Thanks for the opportunity to be a part of your class' project.

More to follow next week.

Friday, 21 March 1997 00:20:14 -0500 (EST)

Hello Boston!

Just a note to let you know Looney arrived safely on St. Patrick's Day and is doing quite well. Although we've had wonderfully warm, sunny and dry weather, we keep him near our ocean bulletin board, complete with a tape of ocean sounds, because we don't want him to be unhappy. He's already visited with first, second, third and fourth grade classes. Tomorrow he will be going into fifth grade. He is just soooo smart. I guess it is because he has had so many experiences across the country.

He was introduced to a live lobster donated to our school by Vons supermarket. I guess we saved him from someone's dinner table. The live lobster is residing in a salt water tank, in a room with a moon crab, hermit crab, goldfish and lots of other animals. We took some photos of him with them and another lobster...could be his cousin...as it is also red and fuzzy, but it is a hand puppet. They got along great!

We'll be sending you copies of the photos of Looney and some of our lobster projects and journal entries. We'll be putting together a hyper-studio stack about his adventures in Las Vegas. Hopefully, we''ll figure out how to send it to you. We also want to send you some digital photos, after we enhance them. We just need some time to get everything together. By the way, what kind of computers do you have? Do you have a zip drive? We have Power Mac 5400/120s in our room.

Looney's having fun, and is getting lots of love and attention. We'll be sorry to see him go. We enjoyed seeing the photos of your class.

This week has been fun for everyone. Next week is our spring recess. Some of the kids may get together to finish some projects.

We'll be in touch soon.

Sunrise Acres Kids
Las Vegas

Wednesday, 26 March 1997 11:59:28 -0500 (EST)

Hello Boston! Dear Marjorie,

I finally got together with Kathy and Larry Allen. He will be well taken care of and have a safe and smooth trip to Colorado. At least he was able to stay here, where the weather has been sunny and about 80 degrees, for an extra few days, before returning to the land of the cold and wet. Thanks so much for the opportunity to be part of your project. Everyone really enjoyed it. We have mailed you some stuff. I hope it's what you want.

My kids want to send out a desert tortoise next year. Would you be interested? Do you know others that might be? We'll probably have every class online and be running web site by then...hopefully.

Keep in touch,

Sue



March 24 - 28, 1997 - - Lexington, Kentucky
Ashland Elementary School - Lexington, KY
Cathy Brandt's class
[Looney Lester 06 - 1,844 miles]



Monday, 24 March 97 16:07:09 EST

Hello!!

Bluegrass greetings. Looney arrived this afternoon. We are excited about a variety of activities in which she will be participating. We'll send an update each day!

Miss Brandt's Class

Friday, 28 March 97 07:53:52 EST

Apologies for not sending daily messages. Our computer had the Monkey B virus and crashed on Tuesday.

One of the first places we took Looney, because she's a visitor in town, was the Visitor's Bureau. She had her picture taken with the host there and she was thrilled to meet her. She gave Looney many interesting pamphlets and info about Lexington.

Looney has been having a delightful time. She has made quite an extensive trek around Lexington to create for you and us the ABC Sites to See of Lexington.

We have visited places from our favorite park to the court house to Rupp Arena and Mary Todd Lincoln House. We are now on Spring Break and will be packing up Looney to go to Florida. We bought her a scarf for her travels.

We also took pictures of the standard items with the camera in her box. Once our pictures are developed, the class will be writing captions for the pics as a part of our Language Arts time. We will then send you one set and we'll keep the other to put with our Looney display.

One of our visits was to our district technology leaders at our Central Office. Looney got to meet many people there and EVERYBODY thought it was the COOLEST project.

The children in my class are deaf. This was a wonderful opportunity for language enhancement. Each time we went to see REAL folks one of the children would do the "introductions" and introduce Looney to the people as well as introduce them to Looney. She was very friendly. It was a great pragmatic activity to reinforce HOW we do introductions.

Looney was very attentive and joined to us in all of our activities. The children took turns reading to her in our special reading chair. She even helped us make our weather station this week. She even learned a few signs while she was here. The one she does best is hello.

We have enjoyed having Looney with us and appreciate the opportunity to be a part of this project.

Miss Brandt & class



March 31 - April 4, 1997 - - Pueblo, Colorado
South Park Elementary School - Pueblo, CO -
Kathy Allen's 4th graders
[Looney Larry 07 - 5,290 miles traveled]



Monday, 31 March 1997 16:03:44 -0700

Hello Friends at Lee!

Looney Larry Lobster was here waiting for us when we arrived this morning. We all got to meet him and give him a hug and a few pets.

It was great to spot our old friend Pueblo Petey in your pictures!

We will take turns keeping Looney at our desks and take him with us when we leave the room.

Today our Gym teacher, Mr. Harrison, held him while we ran laps outside. Then he watched us play a new game, VBB Ball, and cheered for both teams and clapped his claws.

After lunch he went with us to the Media Center where we worked on Mystery class data for the Journey North Project. It is an Internet based program that is really fun. We took a picture of Looney Larry in our official Journey North Tulip garden that bloomed during Spring Break.

We will write tomorrow, bye for now, The 4th Graders at South Park

Tuesday, 1 April 1997 15:04:59 -0700

Hello Friends at Lee,

I am having a good time in Pueblo. We checked your weather today. Brrrrr, it looks like winter is back. It is sunny and nice here. A winter storm watch has been issued for tonight. My friends tell me that in Pueblo that means either tons of wind and snow and cold or another nice day like today. You never know! We can see the clouds rolling in over the mountains right now. It is very beautiful.

I got to go to Music today. We played recorders. I went to Cougar Choir with some of the girls. We are learning to Square Dance. It was fun.

For an April Fool joke, Mrs. Allen traded places with a 2nd grade teacher. We had a math test that was so easy! 2+3 and 1+1. We had to write upper case letters and numbers from 200 to 300. The 2nd graders had to write in cursive, do long division for a test and spell words like Massachusetts. They wanted their own teacher back but we wanted to do 2nd grade work all day!

My friends took some pictures of me that they will send you. They are of me looking at a real prairie dog hole and talking to Snappy, the box turtle.

These kids are so nice. They carry me everywhere with them. There was a fire drill this morning and they made sure I was safe!

Stay warm! Looney Larry

Wednesday, 2 April 1997 12:34:59 -0700

Dear Friends,

Hi! I am Bonnie Riggs and I would like to tell you what Looney did yesterday. Well, he went home with me after school and went to my friend's house. We played Wheel of Fortune and Looney was my partner. He told me the answers and we won! The answer was Hot Springs, Arkansas. Then we went back to my house and ate some of my chocolate bunny. Looney really likes chocolate. Then Looney took a nap in his bag outside while my friend and I played chase. We were too loud so Looney woke up and watched us play. When my friend went home, Looney and I went inside and did my homework.
Bye, Bonnie Riggs

Wednesday, 02 April 1997 21:24:01 -0700

Dear Ms. Duby and Kids,

After school today I dropped off Looney's vacation pictures of Las Vegas and as soon as they are developed I'll send the pictures to you. I think he had a wonderful time. He visited MGM Grand, The Flamingo, Caesar's Palace, The Hard Rock Cafe and the Hotel, Bally's and the brand new New York, New York. He really liked sunning himself poolside. He sent post cards that you should be receiving soon. He has some neat souvenirs that I will be sending to you for safekeeping.

We flew from Las Vegas to Colorado Springs. He loved the airplane. He had 2 of those little bags of pretzels and a Dr. Pepper.

He got to go to Denver with us to spend Easter with my daughter, Marie and her husband. We tried to get some pictures of him with the mountains in the background. I hope they come out. We took a walk and happened on an Easter egg hunt and guess who we ran into? The Easter Bunny! The Bunny was so glad to see Looney Larry. We got a picture of the two of them.

Looney is getting tons of attention at school. He goes every place with the kids. Bonnie didn't want him to stay alone at school last night so she took him home. Tonight he is with a really nice girl, Desiree. I'm sure she'll want to tell you about his adventures tomorrow. Of course, everybody wants to take him home. I just don't know how I'm going to decide who gets to take him!

We all saw on the news about your BIG snow storm! We heard it is the most snow Boston ever got in April. AJ was telling us that he saw on TV this morning that one of the masts on the USS Constitution was damaged. Because of you we almost feel like we've seen the ship ourselves! We hope there is not too much damage.

Take care of yourselves. Stay warm and dry... Spring will return! We are taking super care of Looney!

Your Colorado Friends, The Kids and Mrs. Allen

Thursday, 03 April 1997 09:07:50 +0000

Subject: Looney's Time with Desiree

Dear Friends,

First we went to my Granma's and we ate ham and bread. It is his favorite. He helped me with my homework and we called Danielle. She is in our class. Larry talked to Danielle. My cousins came over and we all danced with Larry. I made him a blanket. He will bring it with him. Have to go. Bye.
Your friend, Desiree Espinoza


Thursday, 03 April 1997 15:22:49 +0000

Dear Friends,

Looney Larry had a good day today. This morning the 5th Graders had a program about birds of prey. The woman from the Raptor Center brought a falcon, a hawk and an owl. Looney got to go to the program. One of the 5th grade teachers took a picture of him with the hawk.

At lunch time he ate pizza with Mrs. Allen and 6 kids who participated in Book It for 5 months. We ate outside on the picnic tables since it was so nice.

At recess Looney was playing basketball. Brian would hold him so he was bouncing the ball and then helped him shoot. He had five lay ups and two three pointers.

He went to Cougar Choir again. Today was the boy's day and while the boys sang he did the girl's square dance. He was really good. He needs to work on the words to the song a little bit.

Hope you get to go back to school tomorrow. (Chris C., Brian, and David)

Friday, 4 April, 1997 15:44:45 -0700

Dear Friends,

David and Brian are cousins. We go to our grandparent's house after school. We took Looney home with us. We went to the park with David's two brothers and Brian's sister. Looney liked the tunnel slide. We went to soccer practice with some other kids from our class Aaron, Dustin, Chris L. Looney watched us practice and took a nap. Aaron went home with David to David's house to play and eat dinner. Looney Larry didn't have any because he doesn't like meat loaf! We played Nintendo. Looney ran out of gas on Top Gear. Then Looney went home with Aaron. We studied spelling words and then we went to bed. Looney got to sleep on my bed. I gave him Fruit Loops for breakfast. I brought him back to school in his bag. We will miss him when he's gone!!!!!!

Bye, Brian, David, Aaron

Wednesday, 9 April 1997 18:02:46 -0600

Subject: Looney Larry Travels East

Dear Lee Friends,

Monday, April 7, Looney Larry resumed his trek. We all hugged him goodbye and sent him on to West Virginia. He has with him a warm blanket made by Desiree to keep him toasty and remind him he will always have friends in Pueblo.

Today we mailed you his vacation and Colorado pictures.

Hope to hear from you soon.

Your friends, 4th Graders of Mrs. Allen



Return to "The Online Journal and Itinerary of Looney Larry and Looney Lester Lobsters."
---
[ Practitioner class page was sited at http://lee.boston.k12.ma.us/d4/D4.html | Boston and global links | Eureka

---
Last modified: September 15, 2005 Copyright © 1997 - Marjorie Duby . All rights reserved.