! DOCTYPE>
Duplication; Disclaimer

Continued Professional Explorations
| | |
| --- | --- |
| Marjorie Duby | Shared Contributions |


NEW PUBLICATION AVAILABLE - From Caravels to the Constitution by Marjorie Duby
at Creative Teaching Press.


Content: Blackline masters - Using word searches, hidden messages, analogies, anagrams, and creative puzzles, students will learn about history while they apply critical-thinking skills. This resource provides students with opportunities to organize and analyze information and to draw conclusions. Extension activities promote practical, informative, narrative, and expository writing skills to help meet the standards. 112 pages [LW405 - From Caravels to the Constitution - $13.99]


---
Shared category: Mathematics - Pentominoes
Have you ever explored the potential of pentominoes? This series of activity cards with a teachers guide provides an opportunity to independently explore pentominoes while identifying pattern combinations.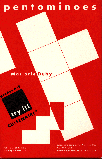 Try It! Pentominoes Grades 4 - 9, Marjorie Duby,
Cuisenaire Company of America


I am featured in Teaching with the Internet: Lessons from the Classroom,
Donald Leu, Jr. and Deborah Leu, 1999.

Shared category: Social Studies - Colonial Simulation



Chapter 4 deals with "Effective Instructional Strategies." In an "Email for you - Colonial Simulation Highlight," In that project I explored the merits of using an original colonial simulation project as the framework for class activities.

Shared category: English/Language Arts - Literacy



In Chapter 5, "English and the Language Arts," I explained the cross disciplinary merits of a travel buddy project in "Email for you - Looney Lobster Loves Regional Literature"

One of my travel buddy projects is mentioned in Effective Literacy Instruction, K-8, Donald Leu, Jr. and Charles Kinzer, 1999.

Shared category: Literacy - Reading, Writing, Mapping, Email messages
In Chapter 9 dealing with "Reading Comprehension: The Construction of Meaning, " Donald Leu connects his "Using Internet Project with Internet Workshop to Support Reading Comprehension" to my interdisciplinary activities. In "Email From the Classroom - Looney Lobster Loves Regional Literature," I outlined my project.

Shared category: Online Database
After I had gathered many bookmarks in a variety of subject-matter areas, I realized that I needed a vehicle to organize those resources for others to use. My original, online database, Eureka! database * , contains sites specifically for the elementary curriculum!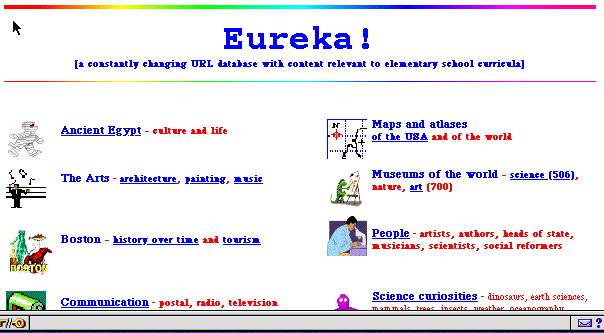 Shared category: Social Studies/Technology - Writing, Email messages
"Boston Postcards" came about as a vehicle to share pictures of Boston with others. Many schools nationwide include the study of colonial Boston as part of their curriculum.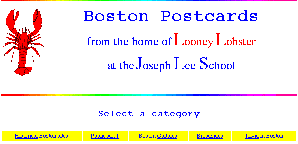 Test out my original, online "Boston Postcards" by sending an electronic mail postcard about Boston!

Shared category: An interdisciplinary tool
After receiving many inquiries about how to create and manage a travel buddy project, I felt I would reflect on my experiences and organize the steps in a manner that might prove useful to others. If you are planning a Travel Buddy Project, perhaps my online Webquest might offer support!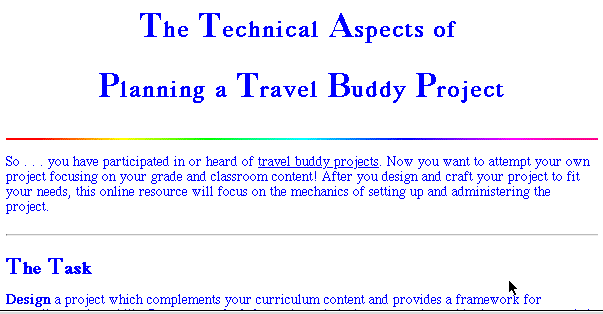 Shared category: Revolutionary Period Theme - Social Studies, Writing, Reading, Mathematics,
Working at a school in Boston brings with it email requests from global students about information relevent to Boston. In the 5th grade, we concentrate on the Revolutionary Period through literature. In my class, I attempted to combine our work in Social Studies, Literature, Mathematics, and Language Arts. Once satisfied with many of the activities, I decided to post them online. These original Revolutionary Period resources might be helpful to you!!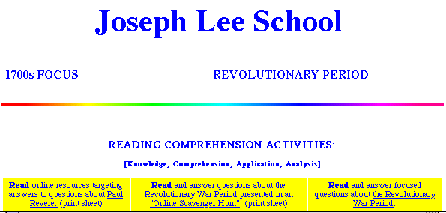 Television
In 1985, Marjorie Duby created the idea, format, and set for Link 4, a Boston Public Schools strategy game show, which was broadcast from the Campbell Resource Center *. Produced by Dr. Nancy Jones and Robert Newman it aired in 1985. Two competing teams of three students each tried to link four squares of their team color in a row, answering questions based on the current curriculum. Two programs were shot weekly, and were shown on Boston/Brookline channels A-3 and A-22. A popular program in Boston, it was also shown in Detroit, Chicago, Atlanta, Proctor, MN, Denver, Los Alamos, West Hollywood, San Francisco, and in Australia. Student contestants came from Boston area schools, and questions were provided by the students' teachers.

[ Inquiry Unlimited | Workshops | Looney Lobster root page | Resources for literacy ]
---
Last modified: January 27, 2008. Copyright ©1999 - Marjorie Duby.

---
Unless otherwise indicated, this website and its contents are the property of Inquiry Unlimited and are protected, without limitation pursuant to United States and foreign copyright laws. All rights reserved.
---