Inquiry Unlimited | Meeting with New England Indians | Chronology of the Peopling of European North America | Passengers to Virginia and New England | John Smith 1614 Map of New England | 1677 Map of New England
Recreation along the Charles:
Background of Metropolitan Park Commission
In 1893, the Commonwealth of Massachusetts creates the Metropolitan Park Commission (MPC) to provide regional parks for Boston and thirty-six politically independent surrounding communities. Their annual reports shared their research on the history of the land and water and suggested a plan for improvement. (1894 report)
---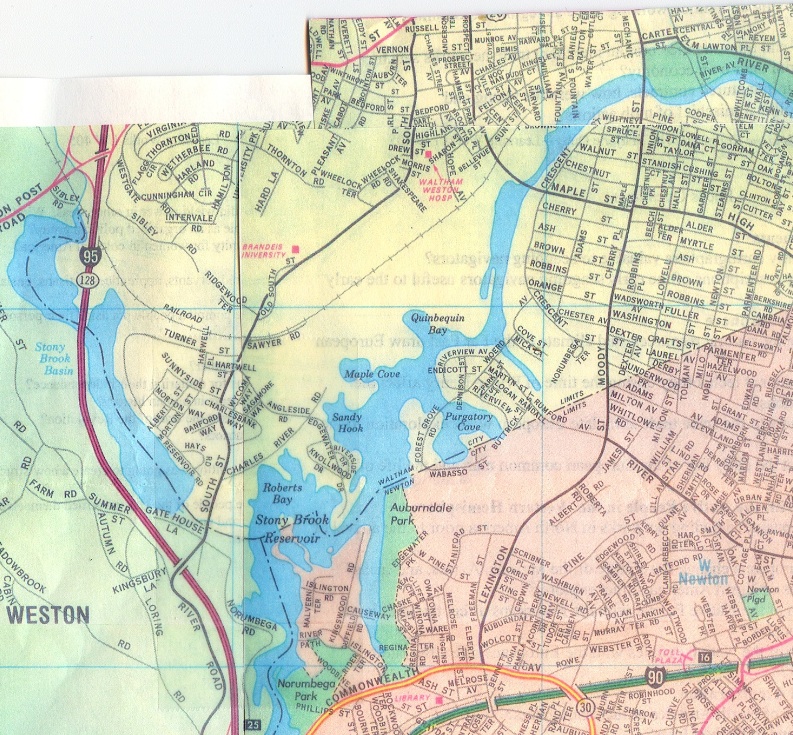 ---
The Background of Canoeing
In the 1870s, canoeing as a sport and recreational diversion is imported from England.

With the existence of the American Canoe Association in 1880, canoeing interest accelerates.

As the mass-production of canoes becomes accessible, the activity's growth becomes more attractive.

The Report of the Joint Board - page 14 - "At present most of the pleasure boating takes place between Lower Falls and Waltham and between Upper Falls and Dedham."
---
Social Mores in early 1900s
With the rules of late-nineteenth century courtship being loosened, the youth of metropolitan Boston find a pleasant escape from their well-regulated, chaperoned homes canoeing along the river. This district along the Charles River, in the last decades of the nineteenth century, has become the major canoeing area of greater Boston.
Popular songs and musicals:
Popular outings:

---

May 29, 1903, Boston Evening Transcript
The canoeing season is now well started on the Charles River, between Waltham and Riverside.

BOAT HOUSE PREPARATION

A large and modern boat and canoe house is to be built at Waltham by H.B. Arnold on the south bank of the river.

Article content:
first floor will be accommodation for 250 canoes, with lockers and modern furnishings.
On the second floor there will be a workshop for finishing canoes.
nine doors in the front of the building
large float will extend to the river.

---

METROPOLITAN PARKS RULES

In 1903, the Metropolitan Parks Commission issues new rules of conduct for the crowd of boaters forbidding activities such as drinking, gambling, and "any obscene or indecent act."
From 1903 to 1905, 37 couples were arrested under these guidelines for kissing or lying down in canoes on this stretch of the river.
The young people fought back almost immediately.

---

RIVER EVENTS

Boston Evening Transcript - May 29, 1903

plans for a series of band concerts and carnivals
band stand
Newton Club will make a total of fourteen river concerts
Regatta on June 17
war canoe crews seen practicing on the river
Field Days BAA Boat House Field Day
Local boat line service Charles West Boat Lines on the White-Swan
Trips from the Moody Street Bridge to Norumbega on the Steamer Marjorie

As of April 23, 2013, you are visitor to learn from this page provided by Inquiry Unlimited.

Last modified: June 20, 2015.

Copyright 2013 Marjorie Duby. This is the intellectual property of Marjorie Duby.

---