! DOCTYPE>
Duplication; Disclaimer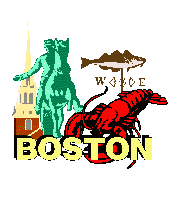 Online Journal of
"The Looneys Love Regional Literature" (1998)
project based at the Joseph Lee Elementary School in Boston, Massachusetts
---
Visit the itinerary and titles for read alouds to Looney Larry, Looney Lester, and Looney Lisa."
---
April 27 - May 1, 1998 - - Archbold Elementary School, Archbold, OH

Jill Grieser
Ohio titles suggested for read alouds.
---
Monday, 27 April 1998 16:06:29 -0400 (EDT)
This afternoon students were so excited when another kindergarten teacher delivered our mail to us. We had a box from Virginia. They cheered and literally jumped up and down chanting "Looney -- Looney ---".

Larry had arrived just as we were ready to celebrate Kyle's pretend birthday. After cupcakes and the birthday song, Larry listened to a story that the PM Kdg. children had written last week.

The children were so excited that they wanted to share all of the books that they have co-authored together. We settled on reading a new Clifford story during which one child noticed that Looney Larry and Clifford are alike. They both are red, have a collar, black eyes,etc. - and others chimed in about all the differences between the two.

Then we listened to Denise Fleming's "Barnyard Banter." We divided up the animal parts giving each student a sound to make and selecting an area of the room for that animal to live. Then the child who was the goose chased the "butterfly" around the room to the various animals as they made their sounds and I reread the story. It was great fun and we filled the room with more than animals sounds ...giggles were erupting everywhere.

We live in a rural area of northwestern Ohio. We are interested in hearing from the other participants concerning the following:

1. How many students live on a farm?
2. If so, what kinds of animals would we find on your farm?
3. How many students have visited a farm?

The author, Denise Fleming, lives in Toledo which is 45 miles east of us. She came to visit our school in February and taught us how she makes her paper pulp pictures. We told her that we had chosen to feature her books during Looney Larry's visit here.

Upon receiving our thank you letter she wrote back to us, decorating the letter and envelope as well with her original drawings. Her address is as follows if you would like to write to her: Denise Fleming, 6035 Pickard Drive,Toledo, OH 43613

She doesn't have an e-mail address but would be happy to correspond with the students via "snail" mail.

I will send her directions for paper making if anyone is interested in having your students try her pulp painting technique.

Have a great day!! We will write more tomorrow of Looney's adventures in Ohio.
---
Tuesday, 28 April 1998 20:49:01 -0400 (EDT)
The morning kindergarten children eagerly greeted Larry upon their arrival. He had the best seat in the house in our story pit while we did calendar and read Denise Fleming's "In the Tall, Tall Grass". The children took turns holding him throughout the morning and also took him with them as they moved through their small group rotations.

Larry listened to the children read, watched them paint a picture depicting an African folk tale called "Tortoise Tricks the Elephants", make designs out of pattern blocks, and review their numbers. Many of the children wrote about Larry in their journals. They voted not to take Larry outside to recess because they thought he might lose another whisker or fall in the mud. (We just moved into our new elementary in December and the playground area is surrounded by lots of mud. Very little grass is growing so far).

After recess Toria carried Larry down to the Media Center. Actually he rode on top of her book and balanced so well that the other children were sure he had done this kind of thing before.

We put all the children's names in a basket and Kelsey was the lucky one whose name was pulled out. Larry went home with her at the end of the morning. We will send her report to you in the morning.

Having a great time with Larry.

Jill Grieser, Archbold Elementary, Archbold, OH
---
Thursday, 30 April 1998 01:35:02 -0400 (EDT)
Day 3 in Ohio saw Kelsey taking Looney home and dictating the following to her mother. "We rode the bus home from school and then colored two pages, took a short nap, ate lunch and played in my room. Next Larry and I took a drive to Napoleon, OH and went with Mom to the bank, the gas station, and a craft store. Then we went to the Dairy Queen for ice cream and chili dogs. We went back to Archbold and picked up Brittany and Jenell, my sisters, for soccer. After we dropped Jenell off at soccer we went uptown and bought shin guards for my sisters. Then we drove back to soccer to watch my sisters play. There Larry met my Dad. After the game we went to McDonald's for a cheeseburger.

Looney Larry and I watched "Nightmare Before Christmas", had a chewy granola bar for a snack and then it was bedtime. First we read some books to help us fall asleep better.

Before we knew it, it was time to get up for school. We ate oatmeal and drank milk. (Kelsey eats oatmeal every morning - ever since she was about one year old). Before we could go to school we had to eat our Flintstone vitamins."

Back at school, Looney Larry took turns helping the children as they drew pictures of him, read an animal story, and looked for matching word parts in Denise Fleming's "In the Small, Small Pond".

Looney Larry was a little worried that one of the children would try to brand him when Mrs. Rich, from the public library came and read us cowboy stories and showed us how to make our own brands out of styrofoam meat trays. But we just branded the cow, not Larry.

We played make a word and Larry helped us sound out some new words. We tried to make Larry's name as well but discovered that we needed another r.

Tori took Larry home at the end of the morning......more later from Ohio.

Jill
---
Saturday, 02 May 1998 22:33:30 -0400 (EDT)
Looney Larry went home Wednesday evening with Tori.

The adventure of Looney Larry and Tori began by riding the bus to Grandma's house. Then they went to McDonald's for lunch and then to Aunt Shannon's to play with Tori's cousins. Later Mommy came and got them and took them to Daddy's house. Larry, Linc (Tori's brother), Tori, and Daddy all went for a short run and then to the park where they played basketball. Later Larry and Tori beat Daddy playing Yahtzee.

Looney and Tori went to Mom's house. They read a story and Looney listened to Tori read a book. They went to sleep. Larry had his own bed in a box with a blanket and a pillow next to Tori's bed. When they got up in the morning, they played with Tori's cat, Tink. They took a picture of Tori, Looney and Tink that they will show the class later. Tori hopes that she can see Larry again sometime.

---

On Thursday, Larry listened to "Where Once There Was a Wood." The children and I discussed how we could help set up an animal habitat at the school yard. We got an old bird feeder out and ready to put outside our class window ---but---rain and mud have delayed our finishing that project. Hopefully on Monday the weather will cooperate.

I also shared information with the children about what this area was like before the settlers began clearing the land in the 1830-1840s. This area of Ohio was known as the Great Black Swamp .... woods, water, and mosquitoes everywhere. Now there are woods only in the center of farm acreage.
We did have one family - the Golls - who planned ahead. In the late 1800s, they set aside a good portion of their land to leave as it was when they arrived. The area now is operated by the State of Ohio - one of the only areas near here with virgin timbers - beautiful place for hiking.

Thursday evening Looney Larry rode home with Shem and his friends on Bus 13. After a snack, they went to Shem's friend's house and played action figures. Then Larry got to meet Shem's grandparents who take care of them for the evening. Larry and Shem woke up early in the morning because Zac (another of our classmates) came over to spend the morning. They played "Hide and Seek" and Looney Larry found them.


---


On Friday, we read "Lunch," "Count," and Denise Fleming's newest book, "Time to Sleep." The children enjoyed counting by 10s, but were disappointed that the book only went to 50. They wished that it went to 100 so we discussed that authors of picture books usually have to stay within a 32 page limit. When I explained that their publishers made them stick to 32 pages, one of the children said, "You mean authors have to do what they are told, too?"

While we are a small community, you may have seen some of the products that are produced in our small village of 3,400 people. One of our biggest industries is Sauder Woodworking - the #1 ready to assemble furniture manufacturer in the US - and LaChoy Chinese Foods. Check for our Sauder products the next time you are in a Wal-Mart (or similar type retail firm)...and laChoy foods in your grocery store.


---


Posted on Saturday - - Looney Larry spent last evening with Trey and I picked him up this morning and mailed him to Louisianna.

Thanks again. The kids and I really enjoyed this project.

Jill Grieser, Archbold Elementary, Archbold, OH
---
[ Back to Looney98 homepage ]

[ Practitioner class page was sited at http://lee.boston.k12.ma.us/d4/D4.html | USA timelines ]
---
Last modified: September 16, 2005.
Copyright © 1998 - Marjorie Duby.
All rights reserved.

---
Unless otherwise indicated, this website and its contents are the property of Marjorie Duby and are protected, without limitation pursuant to United States and foreign copyright laws. All rights reserved.
Disclaimer: The staff of Inquiry Unlimited attempts to provide appropriate, informative educational links. We check and update links frequently. We cannot be responsible for the content, use of, or quality of materials on any website other than our own. To the best of our knowledge, graphics on this site are public domain. If you find otherwise, please notify us and we will remove them immediately.