! DOCTYPE>
Duplication; Disclaimer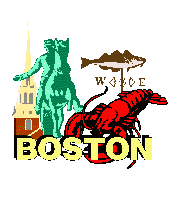 Online Journal of
"The Looneys Love Regional Literature" (1998)
project based at the Joseph Lee Elementary School in Boston, Massachusetts
---
Visit the itinerary and titles for read alouds to Looney Larry, Looney Lester, and Looney Lisa."
---
May 18 - 27, 1998 - - Fort Montgomery Elementary School, Highland Falls, NY

Ken Larkin
New York titles suggested for read alouds.
---
Monday, 27 April 1998 17:45:52 EDT
Looney's Upcoming Visit
Hi to all the Looney Lobster participants.

We have been counting the days until Looney's arrival since we first got the schedule and have been plotting his travels each week on our map of the U.S. Now that we are down to 20 days until Looney Day, the children are really excited. Many have made plans for where Looney should go while he is with us.

Eric is planning on taking him to West Point to see the museum and Trophy Point. He also wants to take him to the local park and to his soccer game.

Carlos wants to take him to his karate school, a local park with an airplane that doesn't fly anymore, down by the train tracks so they could have a picnic lunch and then to the docks to see some boats, and to West Point. He also wants to take him to the Stony Point Battleground and let him walk around where the Revolutionary War battle was fought. After all that they will go out for pizza and ice cream.

Carrin wants to take him to see the Hudson River, Bear Mountain Zoo, her grandparents' house, and to the new mall in Nyack.

Nikolet can't wait to meet Looney. She wants to show him around her house and then read him her favorite book. Then she will take him around Highland Falls and West Point then out riding with her family and finally for him to play with her computer.

As you can see, the students have a busy week planned for Looney. We will be sending more information about our school and community soon.

Since we do not have any internet hook up in our school available to us we will not be able to respond directly to any messages.

Ken Larkin's First Graders
---
Tuesday, 12 May 1998 19:21:25 EDT
Looney 98ers

UPS delivered a box to us just before lunch today. The children were wild with excitement and chanted Looney, Looney . . as I opened the box, being careful not to get pinched. The excitement rose as we found Looney Lester, Looney Lewis and Looney Lilly in the box! The three lobsters were a bit out of sorts when they first came out of the box but quickly became friendly and met the class. They were not impressed with our chicken pattie and potato tots lunch but settled in after lunch and listened to today's read aloud from Dinotopia. The author, James Gurney is from about 60 miles north of here and I have an authographed copy of his book.

We decided to send one lobster home with a child each night so that each night three children will host a lobster. The Looneys were not happy with the idea of being split up but after listening to the discussions, they decided it was for the best. The children have been busy planning some great trips for our visitors. We do not have internet connection in our class so I will be sending the daily posting from home. We will try to provide information on our area as well.

Tonight Eric M. took Looney Lester home, Carlos has Looney Lewis, and Looney Lilly went home with Sara. We made journals for each lobster so the children will be recording the happenings for the night and I will post them.

More tomorrow, Ken Larkin's First Graders, Fort Montgomery Elementary School, Highland Falls, NY 10928
---
Wednesday, 13 May 1998 17:52:13 EDT
Greetings from the Fort Montgomery Elementary School, Fort Montgomery, NY.

Looney Lester, Lewis, and Lilly had an exciting day with their new first grade friends. They participated in the Daily News, listened to children read, helped them write stories, went to lunch and recess and enjoyed their "stardom."

Looney Lester went home with Eric who writes: I took Lester to the middle school libary to show my mom. Then we went home and we watched TV. We watched Looney Toons. He liked the name. We watched Porky Pig. Then we went outside. We went and played on the swings. He liked the supper. We had pizza. After supper we went to my soccer practice. Then we went to see the Hudson River. Then we went to Trophy Poin at West Point. We saw cannons and a piece of the chain that went across the river during the Revolutionary War. After we got home, my dad, Lester, and I looked at a book.

Looney Lewis went home with Carlos who writes: When we got on the bus Billy wanted to see Lewis and then William sat by me. We got to my babysitter's with my friend and we are going to eat. After we ate we played basketball. Lewis and I won. Then we played in the river. He liked it. When we got home, we saw Brendan and Krystal. We played Twister and we played video games. Then we went to Brendan's house. After awhile we played Power Ranger. We went to McDonald's. Lewis kind of liked the Chicken McNuggets and he loved the apple pie. We played King and Lewis won. He is good. We watched TV and then went to bed.

Looney Lilly went home with Sara who writes: Looney Lilly and I went to the West Point Army Sports Ticket Office. My mom and I went to pay for my dad's football tickets. Next, we walked around. We saw three West Point cadets by a tunnel and Looney Lilly and I got our picture taken with them. After that we drove to the home of the U.S. Army mule stables. The mules loved Looney Lilly. Then we went home for dinner. Lilly liked the chicken. Then we went to the ice cream shoppe for dessert.

Today, Looney Lester went home with Glenn; Looney Lewis with Sam; and Looney Lilly with Lauren. I'll post their journal entries tomorrow,

Ken Larkin
---
Friday, 15 May 1998 00:07:56 EDT
Looney Lester, Lewis, and Lilly's day in first grade
The lobsters are everywhere in our classroom. Our daily math problems have a lobster theme. The children are writing stories about the lobsters and discussing where they are going to take them or have taken them and the importance of the places. This morning, as soon as Lauren came into the room she asked Abby if she wanted to read the journal entry she had written about where she had taken Lilly.

I encouraged the parents to take their child and the lobster to "important" places and, if nothing else, the lobsters have gotten the children to some important places and discussing them with their parents and classmates as you can see from their journal entries

Looney Lester went home with Glenn yesterday and Glenn writes: Today Looney Lester and I went to Bear Mountain Park. We visited the zoo. We saw bears, owls, snakes, and vultures. We also saw an Indian campsite. We saw Fort Clinton. This was a battleground for the Revolutionary War. We went to Bear Mountain Park and looked at the Hudson River. We had pancakes for breakfast. For lunch we had peanut butter and jelly. For supper we had pizza and salad. We read two books for a story and played Nintendo 64.

Looney Lewis went home with Sam who writes: Lewis rode on the bus to my babysitter's house. Then my mom picked us up. We went to Foxes and got a chocolate moon and lemonade. Then we went to Trophy Point and looked over a wall at the Hudson River. We sat on some cannons from the Revolutionary War. Then we went to the West Point Museum. It was closed. Anyway, we took a picture. Then we went home and had spaghetti for dinner. Then we went to bed. Then we watched Mummies Alive and Looney Tunes.

Looney Lilly went home with Lauren who writes: Looney Lilly loved the bus ride home. While I was at C.C.D. Lilly was home with my mom. We walked to West Point's Thayer Gate and took a picture with an MP lady. Then we took a picture in front of Thayer Hotel and also in front of the museum. It was so sunny and the grass was so fluffy that I sat on the grass and Lilly sat on my head. Lilly went with me to my brother's baseball game. We rode my bicycle together. My mom ordered pizza at home for dinner. We had a fun time together.

There will not be any postings until Monday. I am off to Chapel Hill, NC for my daughter's graduation from UNC. Looney Lewis is coming with us! The other two will be with children each night and my aide one night. I will try to get some of the journals posted Monday night. The rest will follow on Tuesday.

Ken Larkin
---
Monday, 18 May 1998 22:01:14 EDT
Looney Lewis' side trip to North Carolina
Hi,

Looney Lewis and I returned from NC a few hours ago, another 928 miles for him. It was a very busy trip and we are tired.

Lewis liked the plane ride. He is used to being in with the baggage/mail and he got to sit with us in a "real" seat. He did complain about his ears popping though.

We wanted him to go to dinner with us Friday night but when he found out we were going to Squids, he got pale and very verveous and declined saying he'd rather stay in the motel room. It was probably a good thing he didn't come with us because Squids is a seafood place and Looney Lewis' relatives were on the menu.

Lewis enjoyed a tour of Chapel Hill, learning that UNC is the oldest public college in the US. He got to see the campus, the football stadium, toured the Dean Smith Center (aka The Dean Dome) and saw Michael Jordan's UNC jersey hanging from the rafters. He was very impressed with the graduation ceremony with over 2,300 graduates! He also liked the shops and restaurants on Franklin Street.

Lewis did say he is eager to be back in school with the children. He will be there tomorrow and going home with Eric C.

I will post the students' entries for Thursday, Friday, Saturday, Sunday, and Monday tomorrow.

Ken Larkin
---
Tuesday, 19 May 1998 18:20:27 EDT
More Lilley, Lester, and Lewis in Fort Montgomery NY
Greetings from Fort Montgomery,

The students wanted to provide some information about where we are and some history so, here it is:

Fort Montgomery is about 50 miles north of New York City on the west bank of the Hudson River just north of Bear Mountain State Park. During the Revolutionary War a great chain was put across the Hudson River to keep the British ships from going up the river.

The following is taken from The Fort Montgomery Battle Site Association's flyer describing the May 9, 1998 Hike into History: After proceeding upriver on a large flotilla of ships, on October 6, 1777 General Henry Clinton led some 2,400 troops from Stoney Point over the Dunderberg, through Tymp Pass, to Doodletown. There his forces split. Half proceeded northeast, under Colonel John Vaughn to attack Fort Clinton. The other half under the leadership of Lieutenant Colonel Mongo Campbell and Colonel Beverly Robinson proceeded around the west side of Bear mountain.

Their march, which had begun in the early morning hours, took the better part of the day to wind around the mountains and reach the point of advancing directly on the forts. Scouts spotted the enemy forces at daybreak but offered only scattered skirmishes to delay the advance. Over the entire march their forces were strung out and vulnerable to ambush. Still, there was uncertainty in the American mind as how best to impede the inevitable assult. Outnumbered more than four to one, the best hope seemed to be one of waiting for reinforcements. The Americans were determined to fight to the death to defend the forts.

In the late afternoon the British began their push toward Fort Montgomery. Once reaching the west side of the mountain they were met by Colonel Lamb who had positioned a field piece high on the Tome Road. After sustained fighting at this point the Americans withdrew toward the fort. Over the next several hours the British steadily advanced, but three running assaults were driven back by withering fire. Finally as darkness approached the British swarmed the forts, killing many with the bayonet and taking over 260 prisoners. Throughout the battle General George Clinton and Colonel James Clinton, who was wounded, awaited for help in vane. The defense proved one of the most valorous of thewar.

The level of valor on this date has been referred to as the "Alamo" level. We are also about 15 miles from Temple Hill and Washington's Headquarters.

Ken Larkin's First Graders
---
Tuesday, 19 May 1998 18:57:40 EDT
Looney Lilly had a very busy weekend. First, she went with Krystal who writes: My mom and dad picked Looney Lilly and me up at school. We went home for a little while. Then we were off to Brownie Girl Scouts Bake Sale for the library. After that we went home. We watched the movie we rented. Then it was time to get ready for bed. I will always remember Looney Lilly. She is special. I love her. Lilly liked all the food at my house. We also took Looney Lilly to Camp Smith where we had pictures taken by two Army tanks. Camp Smith is the N.Y. National Guard Training Camp. It was established in 1882 and contains 1,900 acres.

After her stay with Krystal, Lilly went with Courtney who writes: Lilly and I went to see the mules and took their pictures. We went to the Army football stadium at West Point. We also took Lilly to Sacred Heart School to pick up my friend.

From Courtney's Lilly went to Nikolet's who writes: Saturday I went to T- Ball and that's when I picked Lilly up. My dad drove Lilly and me home so my mom could meet Lilly the Lobster. After my mom met Lilly, I then showed Lilly my house. Then we started getting hot so we went swimming in my pool. My mom told me and Lilly to get out of the pool because it was time to show Lilly the Bear Mountain Bridge. We walked over the bridge. That's when my mom took a picture of Lilly and me. We then looked up and down the Hudson River. It was so beautiful. We walked back to the car and then drove up the mountain to look over the cliffs. After we went to the deli for dessert. We had Italian ices and that was the end of our day together. I love Lilly. I'm going to miss her.

Nikolet gave Lilly to Abby who writes: Today is EMS Day at Roe Park. Lilly and I saw a helicopter land and take off. We also went inside an ambulance and saw a car roll over and a dummy fall out the window because it did not have a seatbelt on. We also saw firemen save a man who was stuck in a car. Then I went with Lilly to breakfast at Andy's. We also dug up the vegetable garden and found some worms. My sister and I played with Barbies.

Abby gave Lilly to Tiana who writes: Daddy picked me and Lilly up at Y- Scoop and then we ate dinner at home. Then we went to my baseball game and we beat the yellow team 13 to 5. Lilley, my friends, and I had ice cream. Lilly and my friends took a picture by a boat in the Hudson River. By that time it was time to go to bed. I really enjoyed Lilly staying over my house.

Before going to North Carolina with Mr. Larkin, Lewis went home with Billy who writes: When Lewis and I got on the bus we got off and went to the bridge on 9W. Then we went to Trophy Point and Bear Mountain Zoo. We went to Stony Point. Then we went to my nana's house. We had ice cream. Lewis liked it! Then we went to south dock. We went home and had dinner. It was pizza. Lewis liked it. Then we watched 101 Dalmations and Lost World Jurassic Park. Lewis was scared. We had a fun time together and played cars and trucks then we played with my dog.

Lester too, had a busy weekend. Friday, he went home with Rebecka who writes: Lester and I went on my fort. We played with my friends. We played all day and my mom said come in and we did. We went to sleep and we had fun.

From Rebecka, Lester went to Mrs. Rosener's house. She writes: So far it has been a great week for Looney Lester. He has seen so many interesting sights and the weather has been cooperating too! I live at West Point, NY. My husband teaches in the Physics Dept. My daughter, Teri, is a sophmore at O'Neill High School and my son, Dan, is a sixth grader at the West Point Middle School. On the way home from school I gave Lester a brief tour of West Point. He enjoyed the ride past Michie Stadium and Lusk Reservoir. We also passed the Cadet and Catholic Chapels and Jewish temple. He was very impressed with these buildings. We also drove by the Old Post Chapel and West Point Cemetery. My daughter and her friends were going to the prom that evening and they had the chance to meet Lester. Lester thought they looked great all dressed up. I think he wanted to go too!

Looney Lester spent Saturday in our neighborhood. Dan introduced him to all his friends.

Saturday evening we left South Dock for a ferry boat cruise on the Hudson River. We cruised past Bear Mountain and the Bear Mountain Bridge. Viewing West Point from the Hudson was breathtaking. Lester also enjoyed seeing the towns across the river from West Point such as Garrison and Cold Spring. We also cruised past Constitution Island. Lester loved the ferry boat cruise and all the sights on the Hudson River. He still prefers the ocean, but living on the Hudson River would be fun too.

Looney Lester went to bed on Saturday evening tired, but happy after his adventures. He is excited to see what happens on Sunday.

From Mrs. Rosener's, Lester went to Andrew's house. He writes: Lester came to Andrew's house this morning. First I introduced him to my mom and dad and Peggy and our dogs Sam and Penny. Next we are off to Newark Airport for the FedEx Family Day. We had a great time at FedEx Family Day. We got to go on a FedEx plane and sit in the pilot's seat. I got a frisbee, water bottle, and sunglasses from FedEx.

My dad's car broke down and it had to be towed to an auto body shop. I went to a fancy restaurant while we waited for the car to be fixed. We had to wait a very long time. My dad's car could not be fixed so we had to have it towed. I got to ride in the tow truck with Lester and my Aunt Peg. What an exciting day!

We will try to get fully up to date tomorrow. As you can see, the children are having a great time with the Lobsters!

More tomorrow,

Ken Larkin and the First Graders
---
Friday, 22 May 1998 17:19:41 EDT
Looney Lester, Lilly, and Lewis leave Fort Montgomery Elementary School
Greetings,

Thursday was our last day for the project. We had unused snow days so we have today and Tuesday off as a result.

Looney Lester, Lilly, and Lewis enjoyed listening to "The Headless Horseman", and to Peter Lourie's Hudson River book. They were surprised at how the Hudson River grew as it moved towards the ocean. Lourie's mention of Rip Van Winkle has lead to the students requesting that book for a real aloud too!

Our visitors were surprised when I introduced them and the class to a real live lobster! They got to see how the claws, legs, and tail work. We also talked about what they ate, how their claws helped them, what an exoskeleton was and got to feel a real one. I gave this lobster the nickname LD (short for Le Dinner).

Our three visitors' last day with us ended with a combination of two birthdays and a farewell party for them. They then attended a rehearsal for the first graders upcoming (May 28) concert. They enjoyed the party and the concert.

After we said our farewells, I packed the three lobsters in their special shipping container and took them to the post office. I sent them to Chris in Maine by Express Mail and they will be there by 3 PM tomorrow (Saturday).

Chris, I hope you and your class enjoy them as much as we did and that the Epresss Mail gives your class a few extra days with the visitors!

Our final journal entries.

Looney Lilly went home with Devon Wednesday night and she writes: Lilly and I walked in the forest. I took a picture of Lilly and Joseph.

Looney Lewis went home with Jeremy who writes: We played outside. We went to my brother's baseball game. We played tag in the car wiith the other lobster. We had fun. He and I watched them play baseball. We brushed our teeth and went to bed. Good night. The end.

Looney Lester spent Monday night with Angel who writes: Today I took Looney Lester home and we went to my friend's house. We played outside and we rode bikes and played army.

He spent Tuesday night with Eric C. who writes: Lester and I went to Perkins Memorial Drive in the car. We watched TV and played with my toys. We ate and went to sleep. My sister took pictures of Lester and me with mom at Look Out Point. Mom read us the X-Men. It was exciting.

Looney Lester had a bit of a scare Tuesday. He was accidently left at the bus stop but was found by a second grader who managed to get him to where he was supposed to be!

Well, goodbye from Fort Montgomery Elementary School. We have enjoyed hosting the Looneys and being a part of this wonderful project!

Ken Larkin and the First Graders
---
[ Back to Looney98 homepage ]

[ Practitioner class page formerly sited at http://lee.boston.k12.ma.us/d4/D4.html | USA timelines ]
---
Last modified: September 16, 2005.
Copyright © 1998 - Marjorie Duby.
All rights reserved.

---
Unless otherwise indicated, this website and its contents are the property of Marjorie Duby and are protected, without limitation pursuant to United States and foreign copyright laws. All rights reserved.
Disclaimer: The staff of Inquiry Unlimited attempts to provide appropriate, informative educational links. We check and update links frequently. We cannot be responsible for the content, use of, or quality of materials on any website other than our own. To the best of our knowledge, graphics on this site are public domain. If you find otherwise, please notify us and we will remove them immediately.