! DOCTYPE>
Duplication; Disclaimer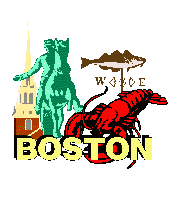 Online Journal of
"The Looneys Love Regional Literature" (1998)
project based at the Joseph Lee Elementary School in Boston, Massachusetts
---
Visit the itinerary and titles for read alouds to Looney Larry, Looney Lester, and Looney Lisa."
---
May 11 - 15, 1998 - - Herod Elementary School, Abbeville, LA

Anne Guilbeaux, Librarian/now classroom teacher
Louisiana titles suggested for read alouds.
---
Tuesday, 12 May 1998 15:25:06 -0500
Looney Larry in Cajun Country
Bonjour (hello) Looneyers,

Imagine my surprise when I arrived here at Herod Elementary and was greeted by Looney Larry! Why my surprise? Because I had just spent last week with Ms. Marjorie Duby at the IRA convention in Orlando! This was my first day back at school and I couldn't get here fast enough to see if Looney Larry had arrived.

Herod Elementary is a Pre K - 5 school located in Abbeville, Louisiana. Abbeville is deep in Cajun Country, where we are known for our "Southern hospitality".

Last year we participated in "Looney Lobster on the Loose" with Ms. Marjorie Duby's class. It was a wonderful experience!

Looney Larry will spend this week in our library visiting with all the classes. Our library sees 33 scheduled classes a week with 650 students visiting weekly for story hour and check outs.

Yesterday, our classes heard the storybook "Gaston the Green Nosed Alligator". It felt funny reading a Christmas story in May, especially with our temperature in the 90's.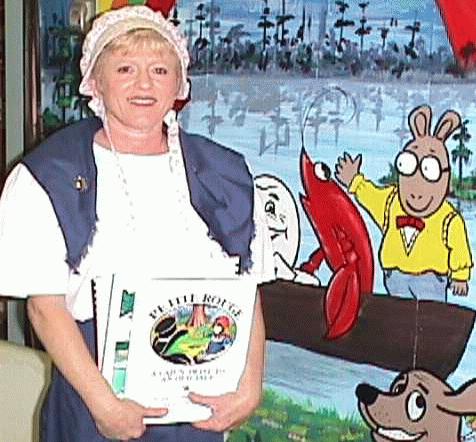 Today, each class was treated to the story "Petite Rouge" by Sheila Collins. We had a special treat as the author was able to read us the story herself. Sheila lives here in Abbeville. Looney Larry sat along side Mrs. Collins as she explained what a Cajun was. The main characters in the story had the last name of Mouton. Mouton means "little sheep". Looney Larry will go home tonight with our little sheep , Lauren and Austin Mouton.

Au Revoir (Good - bye )

From your new Cajun friends of Herod Elementary and Mrs. Guilbeaux (Librarian)


---
Wednesday, 13 May 1998 15:34:58 -0500
Bonjour Y'all,

Looney had a very interesting day. He accompanied Mrs. Guilbeaux on duty today. It was a beautiful, sunny, hot day and the children enjoyed playing outdoor games. We have three recesses so he was outside a lot today. The children all ran up to Mrs. Guilbeaux to see who she was carrying. Looney Larry played baseball, basketball, 4 squares, and hop scotch. He was very hot and tired. He could not wait to get back inside the air conditioned library.

Once inside, he met 7 different library classes, ranging from kindergarten to fifth grade. Everyone took a turn holding him and enjoyed looking at all the pictures of the Looney98 participants.

We enjoyed hearing another Louisiana story about Gaston called "Gaston goes to the Mardi Gras". Mardi Gras is a favorite Cajun holiday. Mrs. Guilbeaux has added information about Mardi Gras to her homepage.

We then had a surprise visit from Mrs. Sheila Collins again. She is the author of "Petite Rouge" and "Jolie Blonde". It seems she had forgotten to take one more picture with Looney Larry!

Looney Larry had mentioned how he has not eaten any crawfish yet. One of our students has talked his parents into bringing him to eat boiled crawfish tonight. This should be an interesting story for tomorrow.

From someplace special on the bayou (by you)

From all of your new Cajun friends of Herod Elementary

Au Revoir and Happy Reading,

Anne Guilbeaux, Herod Elementary Librarian
---
Thursday, 14 May 1998 14:50:52 -0500
Looney Larry Eats Crawfish
Dear Class,

Hi, my name is Brett Ferguson. I brought Looney home last night. We ate boiled crawfish at Acadiana Seafood. They were HOT. Looney and my lips burned like fire. We came home, took our baths and went to bed. When I woke up, Looney was gone! I looked and looked but, no Looney! Finally I found him in the icebox! He told me he was looking for some more crawfish! I told him that he would not find it in there.

To find crawfish, first, we must bait our cages. Then we wait for the live crawfish to get hungry and go into our cage. Then we catch them. From there we put them into a big pot to boil them. We also put in corn, onions, potatoes, and lots of seasoning!!! We boil them for 20 minutes and, presto, it is time to eat.

To eat crawfish, you must hold the body of the boiled crawfish, pinch the tail, and twist. You peel the shell off and there is the meat. Dip in a mixture of mayonaise, ketchup, tobasco sauce and yum, yum, bon appetite!!!

So, I got dressed and went to eat at CC's. There I treated Looney Larry to beignets and cafe au lait. Then we went to school.

I am curious. How many of you have ever eaten boiled crawfish????? Do you have crawfish where you live???????? Please let Mrs. Guilbeaux know.

We are enjoying Looney Larry.

Love, Brett Ferguson
---
Thursday, 14 May 1998 15:09:46 -0500
Looney Larry in Cajun Country
Bonjour Mon Amis (hello my friends),

Today was another interesting day in our library. The classes started coming to library at 8:30 and didn't stop until 3:00. Before I leave tomorrow, I will have met the entire school. They all come to library every week. I have never met so many students in one week! This place has non-stop children all day long. If they are not coming for their library period, they are coming to check out Accelerated Reader books, or to work on the computers. The children love to e-mail other classes.

Right now the library is hosting "Read Across America" and there is always someone looking to see where Abbe, Alphonse, or Crabby Crab is reading.

As many of you know, food is an important part of our Cajun culture. Last night one of our students treated Looney Larry to boiled crawfish. This morning before school he brought him to eat beignets (french doughnuts rolled in powdered sugar) and cafe au lait.

Today we heard another interesting story. It seems mosquitoes are very much a part of south Louisiana! Mrs. Guilbeaux read a story out of the book "Cajun Folktales" titled "The Killer Mosquitoes". We never laughed so much. It was about three Irishmen who came to Louisiana to start farming because they were tired of eating potatoes. After one night of trying to sleep they couldn't because all they did was slap away the mosquitoes biting them. They think they were being attacked by tiny beasts with a bite like a needle. They decide to leave before they were killed for good!

They took refuge in a barn only to see blinking lights buzzing around the room. They believe it is the mosquitoes that have come back to kill them and have brought lanterns with them to see the Irishmen better. They ran out of there so fast and didn't stop until they reached New Orleans where they took the first ship back to Ireland.

Can anyone guess what the mosquitoes with lanterns were????? We are curious to know how many of you have mosquitoes where you live?

Until tomorrow, Au Revoir and Happy Reading, Anne Guilbeaux
---
Friday, 15 May 1998 15:22:22 -0500
Looney Larry in Cajun Land
Hi! everyone,

I am Amanda Weekly from Abbeville Louisiana. The name of my school is Herod Elementary. Looney Larry spent the night over at my house on Thursday, May 14,1998. Here is what we did. First, when I got home from school, we did homework. We played outside with a few friends in the neighborhood. At 5:30 we took a bath, then we ate shrimp stew. Boy was it good! We watched TV for about 2 hours. Then we went to bed. It was a lot of fun having Looney Larry over at my house. The whole family enjoyed having him. Well, it is time to rest so I will see you again soon. Hope to have you over again Looney Larry.

P.S. What kind of food do you all eat over in Boston! What is the weather like there? South Louisiana is under a health warning for the next few days. The fires in Mexico have sent smoke, fog, and pollution our way. The sun cannot come through this. It is very hot and humid. Old people, children, and people with heart and lung problems should stay inside.

Your Cajun friend, Amanda
---
[ Looney98 homepage ]

[ Practitioner class page was sited at http://lee.boston.k12.ma.us/d4/D4.html | USA timelines ]
---
Last modified: September 16, 2005.
Copyright © 1998 - Marjorie Duby.
All rights reserved.

---
Unless otherwise indicated, this website and its contents are the property of Marjorie Duby and are protected, without limitation pursuant to United States and foreign copyright laws. All rights reserved.
Disclaimer: The staff of Inquiry Unlimited attempts to provide appropriate, informative educational links. We check and update links frequently. We cannot be responsible for the content, use of, or quality of materials on any website other than our own. To the best of our knowledge, graphics on this site are public domain. If you find otherwise, please notify us and we will remove them immediately.