! DOCTYPE>
Duplication; Disclaimer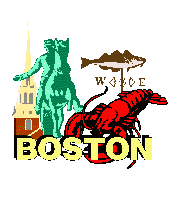 Online Journal of
"The Looneys Love Regional Literature" (1998)
project based at the Joseph Lee Elementary School in Boston, Massachusetts
---
Visit the itinerary and titles for read alouds to Looney Larry, Looney Lester, and Looney Lisa."
---
February 2 - 6, 1998 - - Nickerson, KS
Nickerson Elementary School - Nickerson, KS
Lou Brewer, Librarian and Mrs. Schmidt's 3rd graders




Titles from Kansas suggested for read alouds.





Tuesday, 27 January 1998 12:38:36 -0500




Looney Lee's arrival



We just received Looney Lee Ladybug in our mail this morning. I have already introduced her to our 3rd grade class and they were very excited. We are all hoping that Looney Larry has been safely located.


---




Monday, 02 February 1998 16:04:47 -0500

Looney Lee Sends a Kansas Hello



Looney Lee Ladybug has arrived in Kansas to visit with us since the travels of Looney Larry were thrown into a quandry. Our third graders are very excited about Looney Lee and they feel they are very special since she doesn't get out often to visit other schools.

Today, Looney Lee became acquainted with the classroom where she will spend most of her schooldays. She has crawled along the tops of the desks and visited the 12 students who make up this class. Tonight she is going home with Megan McLemore and she will be attending a gymnastics class and having dinner with Megan and her family. Megan is excited about coming in tomorrow and sending everyone a message about what goes on tonight. So watch for her message.

---




Tuesday, 03 February 1998 12:34:37 -0500 -0500

Tuesday's entry from Kansas



Hi Looney98ers,

Here in Kansas the weather turned cold again today. We had had a week of beautiful weather - in the 50's and low 60's for almost a week and now it is cold and dreary again - just like winter is supposed to be.

Looney Lee Ladybug went home with Megan McLemore last night and here is her report. "My grandma picked me up from school and we went into Hutchinson to do some shopping. Looney Lee was amazed at all of the grain elevators that are in Nickerson & Hutchinson. I explained to her that this is where the wheat is stored each summer when it is cut in the fields. We took my mom to work and then we went back to my grandma and grandpa's where I did my homework. Then it was time to go to gymnastics. Grandma was supposed to bring Looney Lee in with her, but she forgot and left her in the car while I was in gymnastics class. But she was just fine when I got out of class. Then we went home and had supper. My mom came to pick us up and then we went home.

Because Tuesday (today) was Crazy Hair Day at school for our Spirit Week, Looney Lee watched as my mom braided my hair (Note: Megan's hair is long and blonde and her mom braided lots of little braids so her hair would be very wavy for today's Spirit Day.)

We went to bed, and this morning Looney Lee was surprised at all the waves in my hair. Thanks for letting Looney Lee come to visit us in Nickerson."

Looney Lee came to library class this morning, and during this time we read "Climbing Kansas Mountains" by George Shannon, and of course, even some Kansas kids didn't know that Kansas mountains or prairie skyscrapers are really grain elevators. We hope that everyone enjoys this book because it really lets everyone know that even though Kansas is mostly flat, it does have some beautiful scenery.

During Library time we talked about the things that we want everyone involved in this project to know about Kansas. So here are the things the 3rd graders felt you all needed to know about the Sunflower State.

1 - Running back Barry Sanders is from Wichita, KS (just 50 miles away).
2 - Our state flower is Sunflower.
3 - Kansas is a Wheat State.
4 - It is the 34th state in the Union.
5 - Meadowlark is our state bird.
6 - The buffalo is our state animal.
7 - Some people call our state a "blood state" because of the wars that were fought here.
8 - Kansas is a prairie.
9 - People who have always lived in Kansas are known as "Jayhawkers."

These 3rd graders remembered all of this information because last week on Jan. 29, Kansas celebrated its Birthday, and they had spent the week studying about the state.

We hope you have learned something about our state. Looney Lee is going home with Adam Garoutte tonight because it is Adam's birthday - so tune in tomorrow to find how what Adam got for his birthday.

Lou Brewer & the Nickerson Elem. 3rd graders

---




Thursday, 05 February 1998 17:33:14 -0500 -0500

Wednesday & Thursday news from Kansas



Hi Looney98ers,

Sorry we didn't get a message out to everyone on Wednesday, but we kept having problems with our internet and e-mail connections. It kept kicking us off and/or freezing our computer. Hopefully, this won't happen again.

Looney Lee is having a wonderful time in Kansas, and the students are excited because they are learning so much about other states as well as some things about Kansas they didn't know.

For instance, did you know that Kansas has its own folk hero, much like Paul Bunyan. Yes, we do. His name is Johnny Kaw. In fact, according to Kansas legend, Johnny Kaw is the person who gave Babe the Blue Ox to Paul. Johnny Kaw is actually the creation of a Dr. George A. Filinger for the Manhattan, KS centennial. He orginally published the stories in the local newspaper, but as interest grew in these legends, the booklet "The Story of Johnny Kaw" was compiled and then illustrated by an art instructor at Kansas State University. In May 1966, a large statue of Johnny Kaw was dedicated in the Manhattan City Park, and many people come from all over to see this 30 ft. statue, which according to the legend is "just about the size of Johnny hisself."

Looney Lee went home with Adam Garoutte on Tuesday evening because it was Adam's birthday, and we wanted Looney Lee to celebrate a Kansas style birthday. Adam said his birthday party was held in the mall at the "Sector Seven" store, which is a virtual reality and game show store. Looney Lee got to meet 9 of Adam's friends and she even got to ride in the "Red" machine and she rode one of the bikes with him. I think she had a pretty exhausting time from all that Adam has told me. They ate pizza for dinner. Looney Lee was upset that she didn't get to play laser tag with the guys, but Adam was afraid someone would shoot her. After taking some of his friends home, Adam said he went home and opened even more presents - his favorite were the Legos he got, as well as the lava lamp. He said Looney Lee was ready to go to bed around 10 and it was hard getting up to come to school on Wednesday.

On Wednesday evening, Lee went home with Austin Beshears, and Austin told me that Lee really enjoyed going to basketball practice with him. They shot a lot of baskets, but Austin claims he is the better shot. Austin was upset this morning because his little brother had taken Lee into his bedroom and forgot to put her back with Austin's school things, and so he got to school without her. He came to talk with me and we called him and Looney Lee finally made it to the school safe and sound with the help of Austin's dad. She has had an interesting day today because the students were taking a social studies assessment test and they had to draw an island with a lake, a hut, a river and a forest. Looney Lee apparently crawled around the desktops and encouraged everyone.

Looney Lee has gone home with Krystal Bland this evening, and we'll send you an update tomorrow.

We are certainly enjoying all of this excitement.

Lou Brewer, Librarian Nickerson Elem. School

---




Friday, 06 February 1998 16:22:41 -0500 -0500

Looney Lee completes her visit in Kansas



Hi Everyone,

Looney Lee has just finished her weeklong visit in the 3rd grade room here at Nickerson Elementary. I think she had a very enjoyable week and I know that we will all miss her. She is going home with me tonight, and she will get a drive-thru tour of Hutchinson, which is just 10 miles from Nickerson. We will make a quick stop at the Kansas Cosmosphere and Discovery Center, which is a wonderful place for everyone to visit if you ever come to Kansas.

Then, Looney Lee is going to go to Hutchinson Community College, where my husband is the drama instructor, and we are going to attend a rehearsal for their upcoming production of "The Wizard of Oz." Yes, there really is a Dorothy, a Tin Man, a Scarecrow, and a Cowardly Lion right here in the middle of Kansas. I am a costumer and I am in the process of designing and making all of the costumes for this play which will be put on in early March. I'm sure Looney Lee will enjoy visiting our Fine Arts Center.

Looney Lee spent the night with Krystal Bland and went to church with her to attend her Discovery class. They had a very good time Krystal says.

I will sadly put Looney Lee in her box and mail her on to Missouri on Saturday.

We would like to again thank Ms. Duby and her class for this wonderful opportunity.

Lou Brewer, Librarian

---
[ Looney98 homepage]

[ Practitioner class page formerly sited at http://lee.boston.k12.ma.us/d4/D4.html | USA timelines ]
---
Last modified: September 16, 2005.
Copyright © 1998 - Marjorie Duby.
All rights reserved.

---
Unless otherwise indicated, this website and its contents are the property of Marjorie Duby and are protected, without limitation pursuant to United States and foreign copyright laws. All rights reserved.
Disclaimer: The staff of Inquiry Unlimited attempts to provide appropriate, informative educational links. We check and update links frequently. We cannot be responsible for the content, use of, or quality of materials on any website other than our own. To the best of our knowledge, graphics on this site are public domain. If you find otherwise, please notify us and we will remove them immediately.