! DOCTYPE>
Duplication; Disclaimer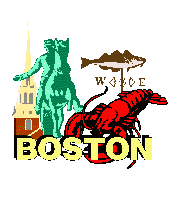 Online Journal of
"The Looneys Love Regional Literature" (1998)
project based at the Joseph Lee Elementary School in Boston, Massachusetts
---
Visit the itinerary and titles for read alouds to Looney Larry, Looney Lester, and Looney Lisa."
---
March 2 - 6, 1998 - - Spencer, Indiana
Spencer Elementary School - Spencer, Indiana
5th graders of Suzanne Tyler and Ms. Bir
Indiana titles suggested for read alouds.
Monday, 02 March, 1998 8:53:27 +000
Dear Ms. Duby and Class,

Looney Lobster arrived safely in Indiana late Friday afternoon. Students at Spencer Elementary School met him this morning.

He says to tell you he is fine and he misses you but he is enjoying his travels and all of the interesting places and people he is meeting. He will keep you posted on his Indiana adventures.

Mrs. Tyler and Miss Bir's Fifth Graders
---
Thursday, 05 March 1998 10:45:47 +0000
Looney tours Owen County

Dear Looney fans,

We are glad to have Looney here. We are sorry, though, that Mrs. Tyler can't be here. She had to go to a funeral for her father-in-law. He had pizza for lunch today.

We sent Looney home with Heather last night. The boys think he had a bad time. Travis thinks that he would faint because he would have to be nice to Barbies. Emily said that maybe the Barbies have been put away for little sister now.

Mrs. Clouser is our substitute this week. She likes to tell true stories. She might be driving past the Indianapolis Motor Speedway tonight. That is the home of the Indy 500, a raceway for Nascar and Indy cars. She will take the camera and try to get a picture for you.

We will write again with Mrs. Dibble tomorrow.

Mrs. Tyler's and Mrs. Bir's fifth grade classes.
---
Friday, 6 March 98 11:44:47 EST +0000
Looney catches a catfish!

Dear Looney fans,

Last night Looney went home with Stephanie and they went fishing at her pond. Looney caught a 17 pound catfish! He must have a natural fishing ability!

They stopped by McDonald's on the way home. We think he would like tartar sauce. For dinner they had pork chops, corn, and mashed potatoes. He enjoyed the company of all the other beanie babies and stuffed animals in her room.

Today is Looney's last day with us. We told him all about Mr. Scott Russell Sanders, the author of "The Floating House," "Aurora Means Dawn," and "Bad Man Ballad." Ms. Tyler read all of these books to us. Mr. Sanders visited our school February 20th. He told us that when he was little he had no idea he would be an author, but he always loved to write. He used a typewriter at a neighbor's house and really liked it. He doesn't like to write by hand at all. He got a typewriter that Christmas that he still has but now he uses a computer to write. It takes about 3 or 4 months for the writing of the picture books, but about a year for a chapter book. Sometimes it takes longer to write if Mr. Sanders gets "writer's block."

We are worried that poor Looney has had some traumatic "near death" experiences this week. Our cafeteria staff has offered a larger pot of boiling water for Looney's future. We rescued him from this fate. We hope he will remember Hoosiers for their good qualities!

Today we will have his picture taken with our "American Doughboy" statue on the courthouse lawn. This statue, of a WWI soldier, was designed by E. M. Viquesney, an Owen County native. There are many of these statues all around the country.

From your fellow Americans, Miss Bir and Mrs. Tyler's Fifth Grades

---
[ Looney98 homepage | Back to February adventures and links]

[ Practitioner class page formerly sited at http://lee.boston.k12.ma.us/d4/D4.html | USA timelines ]
---
Last modified: September 16, 2005.
Copyright © 1998 - Marjorie Duby.
All rights reserved.

---
Unless otherwise indicated, this website and its contents are the property of Marjorie Duby and are protected, without limitation pursuant to United States and foreign copyright laws. All rights reserved.
Disclaimer: The staff of Inquiry Unlimited attempts to provide appropriate, informative educational links. We check and update links frequently. We cannot be responsible for the content, use of, or quality of materials on any website other than our own. To the best of our knowledge, graphics on this site are public domain. If you find otherwise, please notify us and we will remove them immediately.