! DOCTYPE>
Duplication; Disclaimer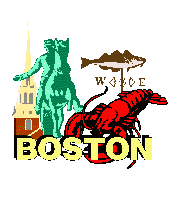 Online Journal of
"The Looneys Love Regional Literature" (1998)
project based at the Joseph Lee Elementary School in Boston, Massachusetts
---
Visit the itinerary and titles for read alouds to Looney Larry, Looney Lester, and Looney Lisa."
---
January 26 - 30, 1998 - - Hauula, Hawaii
Hauula Elementary School - Hauula, HI
4th graders of Ilima Stern, Sherry Kahawai, Kate Castle




Titles from Hawaii suggested for read alouds.





Monday, 26 January 1998 19:28:34 -1000




Orchid lei



I just made a lei of orchids to give to Looney Larry tomorrow. He will be so happy to get out of his box.

It should be a warm, sunny day - with light trade winds blowing. For you in the frozen north, our temperature will be about 75-80 degrees.

We'll have to get some sun screen for Larry.

Beginning tomorrow, you'll be getting messages from the students in Grade 4 of the Hauula Elementary School. If you want to find it on your map, look for the island of Oahu. Hauula is in the northeast corner.

We will be reading Robert Quackenbush's "Surfboard to Peril" tomorrow. Just as Miss Mallard travels around the country having adventures, so does Looney Larry.

Aloha, MaryAnne Long

---



Tuesday, 27 January 1998 14:47:18 -1000




Aloha, Larry



Looney Larry spent his first day in Hauula. He met Mrs. Kahawaii's fourth graders. He got a lei of orchids when he arrived.

He visited all the kids while Mrs. Long read "Surfboard to Peril." Larry liked the mystery. He said he's like Miss Mallard because he travels and has adventures, too.

Larry will go to the Polynesian Cultural Center on a class trip on Thursday. He will learn all about the people of the South Pacific.

He seems happy to be here. We will make a plan so that he will get to have lots of adventures.

We hope the other Looneys have fun, too.

Mrs. Kahawaii's class


---



Tuesday, 03 February 1998 07:07:17 -1000




Looney Larry in Hau`ula



I will be visiting Larry at the Hauula Elementary School today and transferring him from Mrs. Kahawaii's class to Mrs. Stern's class.

He has visited the Polynesian Cultural Center and went to a soccer game.

More about his adventures will be posted later today.

Aloha,
MaryAnne Long


---



Tuesday, 03 February 1998 14:42:22 -1000




Punia and the King of Sharks



I just read "Punia and the King of Sharks" to the class. They worried about how Looney Larry must have felt about a story where the main character spent most of his time eating lobsters.

Larry is off to hula class tonight.

He has been swimming in the beautiful blue Pacific.

He's having a wonderful time and will share his stories very soon.

MaryAnne Long
Playing Auntie to a homesick lobster


---



Thursday, 05 Feb 1998 15:21:58 -1000




Looney Larry in Hawaii - Jan. 28



Here's an update of Looney Larry's adventures in Hawaii.

Wednesday, January 28 - Report from Monique

Larry picked flowers for Mrs. Kahawaii. (I think they were Tahitian ginger - they smelled very exotic.) He rode on the swing at recess all by himself. He slid up and down the pole.

Larry was king for the day. He played on the computer and played Math Blaster. He wanted to print, but the printer did not work.

He went to Laie after school and had shave ice. (That's a snow cone, to you Mainland folks.)

After he went to Waimea and Sunset Beach to see the big waves - some were 40 feet high (that's no exaggeration - we've been having VERY high surf lately).

He went to Waimea Falls to pick fruits.

That night he listened to music, watched TV , and ate food.

Note from Mrs. Kahawaii - Today Larry listened to us read the last two chapters of "The Curse of Pele." It was a good book about how Pele puts a curse on a boy and girl for taking Pele's rocks from the volcano area. All kinds of things happen to them until they return the rocks to the Big Island where they took them from.


---



Thursday, 05 February 1998 15:29:56 -1000




Looney Larry in Hawaii - Jan. 29



The first thing I did with Larry was stitch him up. Then I went to Lindy's Foods (a grocery store) and looked for things for my dad and Uncle Todd's birthday party. I took Larry to my dad's job and cleaned a unit. Then he went home to my house and that's all we did.

Note from Mrs. Kahawaii - Today we read "Luka's Quilt." It's about a girl who is disappointed with her flower quilt from her grandmother. She expected it to be full of colorful flowers, instead it was green and white. Grandma adds a colorful lei of flowers to the quilt, making Luka a happy little girl.


---



Thursday, 05 February 1998 15:40:14 -1000




Looney Larry in Hawaii - February 3



Aloha, Looneyers

Report from Fasi Sua

Looney Larry Lobster

What Looney Larry Lobster did this morning was play with the Nakoa Tribe. We came from Mrs. Kahawaii's class. Mrs. Long brought Larry to us. He came from Boston. After, he leaves our school he is going to go to Missouri. He is going to recess with Canzas and Jerlyn. Tomorrow he is going to the ranch with Ku`uipo.


---



Thursday, 05 Feb 1998 16:01:46 -1000




Looney Larry Learns the Hula



LOONEY'S ADVENTURES ON TUESDAY EVENING

On Tuesday, February 3, 1998, Looney Larry Lobster went home from school with Mrs. Stern, so that she could take him along with her to hula. Hula, in Hawaiian, means "to dance," and it is also the dance itself. Mrs. Stern teaches hula to women over the age of 13 at He`eia State park in Kane`ohe. Looney enjoyed the ride to hula because he could look at the blue and green ocean and see the waves practically the whole trip. He was amazed because the ocean was on one side of the car and the green, steep mountains were on the other side.

Once she got to hula, Looney was introduced to the other hula teacher, or kumu hula, who was Mrs. Stern's sister. He met the students, called haumana, in Hawaiian. Everyone in the class made Larry feel right at home.

The class, papa, is learning a hula called "Eia Hawai`i." This dance is very old. It is about a chief called Moikeha who came from Tahiti to make Hawai`i his home. It is supposed to be chanted as Moikeha's canoe, wa`a, first approached the Hawaiian Islands. It has many references to Moikeha's ancestors, places in Tahiti, and gods of Polynesia, This kind of hula is called hula kahiko, meaning ancient hula.

After Mrs. Stern and her sister, Haunani Kauka, felt the students did well on "Eia Hawai`i," the students practiced a hula `auana, a modern hula, that they had learned last year. "Hale`iwa Hula" is the name of that dance. It's about a town on the north shore of O`ahu and people visiting and having fun there around the turn of the century. Hula `auana is danced to music, unlike hula kahiko, which is chanted and danced to a gourd and drum accompaniment.

Looney Larry went home and spent the night with Mrs. Stern in Hau`ula. She brought him back to school very early in the morning on Wednesday, because she had to go on a visitation to a school all the way over in Waimanalo, which is still on the windward side of O`ahu, but still quite far away.


---



Thursday, 05 February 1998 16:09:30 -1000




Lobster Research



Mrs. Stern's class wanted to learn more about lobsters once they had met Larry. Secret Rowland found some information on the computer. She found that lobsters are arthropods, which means they have jointed feet and legs.

In olden days, there were many lobsters in Hawaii, so many that people could pick them out of the water right along the edge of the reef. Today, there are many rules to protect lobsters so that they do not become extinct.

Secret got her information in "Knowledge Adventure, Inc."


---



Saturday, 07 Feb 1998 15:16:42 -1000




Looney Larry is on the way to Missouri



At 3:00 p.m. today, Larry will be headed for Honolulu to board a plane for Missouri, to visit with Ruth Petsel's 5th graders.

He received a big A-L-O-H-A send off today at the Hauula school bazaar. He got to hear some fine Hawaiian music and see lots of ono (delicious) local food. (Hawaiian plate with kalua pig, fried noodles, Spam musubi, to name a few)

We still have a few more adventures to post, so you will be hearing more about Larry's adventures in the next few days.

Mahalo for sending Larry to visit us.

Aloha,

MaryAnne Long


---




Sunday, 08 February 1998 21:01:33 -1000




Looney Larry and the Llama





Larry's Day - February 5, 1998 (Hawaii) by Ku`uipolani Ka`ahu



Today after school, Larry, my friend Annie, and I went to Kahuku Ranch. When we got there, we cleaned all of the horses. Then we fed the horses. When I was feeding the horses, Larry almost fell into the horse manure. I'm glad he didn't.

After we went to ride the horses. Larry rode the llama. My friend Annie took Larry for a ride on the llama while I was feeding the other animals. After I fed the animals, I got my horse, Thunderbolt, and went to look for Larry and Annie. When I found them, they were with the baby lambs. We played with the baby lambs for a while. Then we put the llama away and went home.


---




Sunday, 08 February 1998 21:02:46 -1000




Looney Larry in Class





Looney Larry Lobster - February 6, 1998 (Hawaii) by Keli-Grace Saniatan



During morning recess today, Friday, Looney Larry Lobster ate Cheet-tos with me. he loved it. After recess, Looney and I went to centers.

During the first center, Larry and I went to center 2, Mrs. Lam's group. The first thing Larry and I did when we got there was do worksheets, and then I read Larry a short poem. It was called "Stronger Than Life." Then Larry and I looked at my work to see if it was all correct. Larry told me I had one wrong. I corrected it. I drew a picture of some flowers for Larry.

I took Larry to lunch with me. I shared some food with him. After lunch, I passed Larry on to Robyn.


---




Sunday, 08 February 1998 21:03:58 -1000




Larry's last night in Hawaii





Looney Larry's Adventures with Secret Rowland - February 6-7, 1998



Looney Larry left school with Secret Rowland today to go to the doctor's office for a check up and Hepatitis B shot. Later Looney watched as my sister Julie and I cleaned the room. Then we played a game while Looney watched TV.

After we had dinner, off we went. For a minute, I thought I had lost Looney, but he was right there beside me. He took a nap while we went to Sunday School. Looney got tired and I didn't think he would make it through the night.

He helped me do my lesson at Sunday School. I think he's pretty intelligent - and I do mean *intelligent.* He watched me make a booklet and Looney thought it was pretty.

Because Looney does not have any fur for clothing, he got cold so he wanted to go in my jacket pocket, even though I didn't think he would fit. He was pretty warm in my pocket. I couldn't believe it, but he was right - he did fit. See, he is intelligent.

Later we had some shakes and Looney had a chocolate chip cookie and some juice. He didn't like the juice. I gave Looney another cookie and he liked it a lot. Then he was full and I gave him a nap.

When he woke up, he watched me play Chinese jump rope. Looney wanted to play, too. He tried, but he couldn't make it.

Looney had so much fun that he did not want to leave, but he had to go to the bazaar tomorrow. So we went home to go to sleep.

Next morning, I woke him up and it was off to the bazaar. But, before we got there, we had to stop at the Civic Center to drop off my sister Kailee and my dad for a Fun Run. I had to explain to Looney what it was all about. Then we went to church to pass out water while Looney watched.

At last, he was in his box and could sleep for a long time until he reaches Missouri.


---




Tuesday, 10 February 1998 20:13:05 -1000




Looney Larry's Adventures by Jodi Ku`ulei Lokelani Napua Ha`aheo Omaui Santos





Friday, January 30, 1998



I took Looney Larry Lobster home for the weekend. We visited the home of our teacher, Mrs. Kahawaii. She lives on the oceanfront. It was a beautiful day with the temperature around 80 degrees. We went swimming and diving. The ocean was very choppy because of a north swell that brought 20-30 foot waves to the North Shore.

I know Larry was really happy. He felt right at home here in Hau`ula. Hau`ula is on the northeast coast of Oahu, one of the eight islands that make up Hawaii.

After swimming, we played house. Larry got to play my pet. Then Mrs. Kahawaii took us to the Brigham Young University-Hawaii Campus snack bar for burgers and fries. After, we went to McDonald's playground to play.

We got home around 9:00 p.m. and got ready for bed. It got cold, around 60 degrees. (That's COLD, for Hawaii.) I put Larry in my soccer socks to keep him warm. We played Sony Playstation with my brother Jason (10th grader) for a little while before we went to sleep.


---




Saturday, January 31, 1998



Today we were going to Shader's 16th birthday party at Sand Island Beach Park. This park is in Honolulu about a 45-minute drive from our home. It is on the south shore of Oahu, and is a good swimming spot. Larry watched as I went body boarding.

There was so much food. Uncle Dennis made pulehu (charcoal-cooked steak), hot dogs, corn-on-the- cob, sushi, chow mein noodles, Okinawa teriyaki pork, cucumber namusu, fried chicken, macaroni salad, Okinawan doughnuts, shrimp tempura, and laulau , and chocolate birthday cake.

After eating, we played cards and horseshoes until 5:30, then went to my Aunt Jessica's house to shower and get ready to go to the K-Ci and JoJo concert at the Blaisdell Arena. It was part of the Pro Bowl activities.

It was the first concert I've been to and I thought it was kind of boring. The people were screaming and yelling. You could hardly hear the singing and the songs I like didn't sound like they do on the CD's. Even Larry didn't like it.

After the concert, we went to Zippy's for a snack. The guys ate wonton min (a noodle kind of soup). Then we went to Aunty Jessica's house to sleep.


---




Sunday, February 2, 1998



It's another beautiful day in Hawaii. The sun is shining and it's about 80 degrees. The Pro Bowl is today at Aloha Stadium, but we are going to watch it on TV.

For breakfast, we had malassadas (Portuguese donuts), Spam, Portuguese sausage, eggs, and rice. Later, we went swimming at the pool. Larry got a little wet, but dried out in the sun. Later, we went cruising through Waikiki, past the Honolulu Zoo, and Diamond Head Lookout. We rode through Kahala and Manoa, looking at the mansions. We saw some old-style houses like you would find in New England.

We came home on the new H-3 freeway. It goes through a beautiful valley and has an ancient heiau (sacred Hawaiian place) on the side.

Larry was tired, but had a really good time.


---
[ Back to Looney98 webpage ]

[ Practitioner class page formerly sited at http://lee.boston.k12.ma.us/d4/D4.html | USA timelines ]
---
Last modified: September 16, 2005.
Copyright © 1998 - Marjorie Duby.
All rights reserved.

---
Unless otherwise indicated, this website and its contents are the property of Marjorie Duby and are protected, without limitation pursuant to United States and foreign copyright laws. All rights reserved.
Disclaimer: The staff of Inquiry Unlimited attempts to provide appropriate, informative educational links. We check and update links frequently. We cannot be responsible for the content, use of, or quality of materials on any website other than our own. To the best of our knowledge, graphics on this site are public domain. If you find otherwise, please notify us and we will remove them immediately.