! DOCTYPE>
Duplication; Disclaimer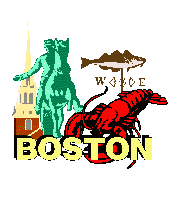 Online Journal of
"The Looneys Love Regional Literature" (1998)
project based at the Joseph Lee Elementary School in Boston, Massachusetts
---
Visit the itinerary and titles for read alouds to Looney Larry, Looney Lester, and Looney Lisa."
---
May 25 - 29, 1998 - - West District School, Unionville, CT

Jennifer Cote
Connecticut titles suggested for read alouds.
---
Monday, 18 May 1998 22:39:16 -0400
Hi!

Just wanted to let you know that Looney Larry has safely arrived at West District School here in Connecticut. We were pleasantly surprised to have him join us so soon--we didn't expect him to get here until the end of the week at the earliest. "Thank you" to the hosting class in Abbeville, LA for making sure that he got here quickly and safely! Looney Larry will get to enjoy our end of year school chorus and orchestra concert tomorrow!

I'm very excited because our technology resource teacher (who also teaches fourth grade full-time) will be getting our classroom "wired" so that we can get online within the next day or two. Looking forward to having Larry spend the entire day with us tomorrow!

Jen Cote
---
Wednesday, 20 May 1998 21:41:34 -0400
Looney Larry in the Nutmeg State
Looney Larry says "hello" to all of his friends throughout the United States. He is adjusting well to Connecticut, even though it was recently revealed that lobster is a favorite FOOD among many of Mrs. Cote's third graders. They have solemnly promised not to get any tasty ideas while he is with us. So far, everyone has been true to their word. In fact, one student (Sarah) made Looney Larry a multi-room lavishly furnished house out of a couple of shoe boxes she had at home. Other students have contributed items to this house such as a miniature book of poetry, a television with a remote (even though he of course prefers to read), and a personal Identification card.

While we have not started our read alouds of the titles that we have submitted, Larry did get to listen to the end of Mick Harte Was Here, a story about how a girl copes with the senseless death of her brother. Mick died from massive head injuries he suffered when he had a bicycle accident. It seems that Mick would not wear a bicycle helmet because he thought it made him look stupid. In Connecticut, there is a law requiring all children to wear a helmet anytime they are on a bicycle. Can you believe that even though this is a law, some children still don't wear helmets?

Yesterday, Larry went home with R.J. He should be reporting on their time together tomorrow. Tonight, Looney Larry is at Christopher's house. Chris just celebrated his birthday. He brought in some cupcakes to share with us. They had ocean blue frosting and red lobster candies on top! We took a picture of Larry admiring these delicious treats. He said he didn't mind if we ate candy lobsters!
---
[Back to Looney98 homepage]

[ Practitioner class page formerly sited at http://lee.boston.k12.ma.us/d4/D4.html | USA timelines ]
---
Last modified: September 16, 2005.
Copyright © 1998 - Marjorie Duby.
All rights reserved.

---
Unless otherwise indicated, this website and its contents are the property of Marjorie Duby and are protected, without limitation pursuant to United States and foreign copyright laws. All rights reserved.
Disclaimer: The staff of Inquiry Unlimited attempts to provide appropriate, informative educational links. We check and update links frequently. We cannot be responsible for the content, use of, or quality of materials on any website other than our own. To the best of our knowledge, graphics on this site are public domain. If you find otherwise, please notify us and we will remove them immediately.