! DOCTYPE>
Duplication; Disclaimer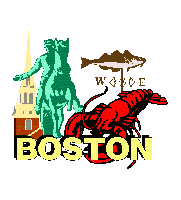 1998 Online Journal of
"The Looneys Love Regional Literature"
project based at the Joseph Lee Elementary School in Boston, Massachusetts
---
Visit the itinerary and titles for read alouds to Looney Larry, Looney Lester, and Looney Lisa."
---
Class Inquiry Letter to Craig Brown
(Individual students wrote specific paragraphs)
March 2, 1998

Dear Mr. Brown:

We are a fifth grade class from Boston doing an online telecommunications project with traveling mascots which travel the United States to elementary schools while focusing on regional literature. A teacher at Cornell Elementary School in Des Moines, Iowa where our stuffed Looney Lobster was visiting mentioned you as a local author and suggested that we read your books.

We used "The Ornery Morning," "The Patchwork Farmer," "Tractor," and "City Sounds" as read alouds. While reading them, we got to wondering about your drawing style because it is very unusual.

We noticed that you use dots when you draw. Why do you use them? Do you use them for outlining, shading, and detail?

We tried to see if there was a pattern about where you put the dots. Is there a certain pattern? We like your style, but some found it confusing.

Finally we tried to figure out how you put the dots on the paper. Do you put them on with a pen or brush? Do you splatter them? How do you control where the splatter goes if you splatter them? Do you put the dots in individually? If you do, it must take you a long time to do that part.

Do you draw the picture first and then place the dots or do you use the dot as an outline and then draw the pictures?

If you have time, we look forward to hearing from you. We will share your answers with participants in our "The Looneys Love Regional Literature" project.

Your friends from Boston,
---
Response from Craig Brown
March 10, 1998

Dear 5th Grade Class of Joseph Lee,

It was fun reading your letter and I hope you enjoyed the books.

The technique I use in my books is called stippling or it is also called Pointillism. I use it to create shading and or definition between shapes in the illustration. The dots are placed with a rapidograph pen, individually but not in any order. I do the drawings first, transfer them to a strathmore board and then start stippling. I add the color last. One illustration can take about 5-6 days to stipple and 1/2 day to color.

I have also started adding line with my illustrations and have enclosed some information for you to look through.

Feel free to visit my web page, or write me at my email address .

All the best, Craig Brown
---
[Back to Looney98 homepage]

[ Practitioner class page was sited at http://lee.boston.k12.ma.us/d4/D4.html | Boston and Global links | Eureka database ]
---
Last modified: September 16, 2005.
Copyright © 1998 - Marjorie Duby.
All rights reserved.

---
Unless otherwise indicated, this website and its contents are the property of Marjorie Duby and are protected, without limitation pursuant to United States and foreign copyright laws. All rights reserved.
Disclaimer: The staff of Inquiry Unlimited attempts to provide appropriate, informative educational links. We check and update links frequently. We cannot be responsible for the content, use of, or quality of materials on any website other than our own. To the best of our knowledge, graphics on this site are public domain. If you find otherwise, please notify us and we will remove them immediately.