! DOCTYPE>
Home | Abolitionism Challenge | Underground Railroad Booklist | Earl Conrad's Charles P. Wood Manuscripts
Procession - Boston, 1789
In celebration of George Washington's inauguration as our nation's first president, he went out to meet the people. He visited Boston. A procession of professionals, tradesmen, artisans, and service providers lined up to welcome the visiting President George Washington. This broadside dated October 19, 1789 advertised the "Procession" giving directions for an orderly arrangement of the procession and listing the order of occupations. It states:

Procession: Boston, Oct. 19, 1789 - As this town is shortly to be honoured with a visit from the PRESIDENT of the United States: In order that we may pay our respects to him, in a manner whereby every inhabitant may see so illustrious and amiable a character, and to prevent the disorder and danger which must ensue from a great assembly of people without order, a Committee appointed by a respectable number of inhabitants, met for the purpose, recommend to their Fellow-Citizens to arrange themselves in the following order, in a PROCESSION . . ."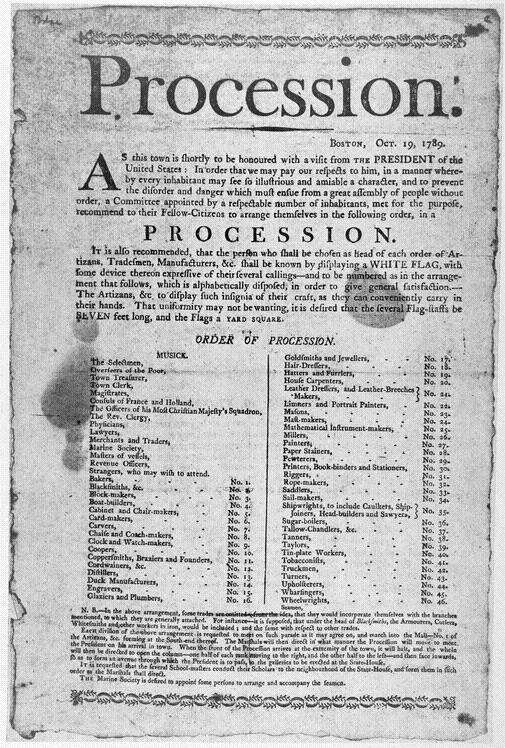 Analyze this document using Bloom's Taxonomy.

Compare this document to the information gathered from "Occupations of Boston, Males, 1790."

Create an activity applying higher order thinking skills.
---
[ Revolutionary Period | The City as a Classroom | Abolitionism | Student Slave Narratives | Rev. Period Index ]

Last modified: February 24, 2017.
---