As Looney continued through the 1700s in Boston, mob actions began to frighten him. Many times a group of young men would taunt the tax collector. Other times they might demonstrate in front of businesses.
There was a particular group of incidents in 1770 which were most disturbing to Looney.
One instance involved the shooting of Christopher Snider, a young boy, in front of Lillie's Shop. On this day in 1770, Looney was with Christopher Tucker (AKA Dante R.), the chimney sweep, when they were near Lillie's shop. They were witnesses to a mob action where they saw Christopher Snider getting shot!
Chris sat with Looney and wrote a letter to the 5D4 students in 1999 Boston.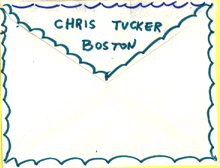 Read Chris Tucker's letter